Passionate photographer goes often in vacation without his family because some times the infrastructures for photo nature tourism are not suitable for a family.

Your passion for photography brings tensions into your family? Not anymore!

Safari-photo-nature with it's Carpathian Destination, proposes to you a nice, cosy hotel (photos) with pool, fitness, sauna and many other facilities.

The Carpathian holiday it's an opportunity for your entire family to discover a country with a rich historical (photos) and natural (photo) heritage.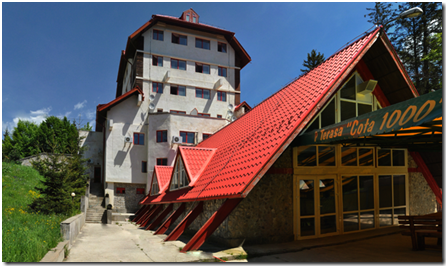 | Tailor made trips
If you are interested we can organize for you a series of tailor made trips in order to present you Romania. Those trips are adapted according to your wishes and interests.

| Excursions
> Nature curiosities theme
*** Discovering mud volcanoes (1 day)
*** Europe's buffaloes (1 day)
*** Within Earth's heart – the salt mines (1 day)
*** Trekking in Fagaras Mountains (only at demand, trek between 1 and 4 days)
*** The living fire (1 day)
>
Cultural theme
*** Paint monasteries from Bucovina - Unesco heritage (3 days)
> Safari photo trips for children - new in 2012
Photography trips for your children in a secure natural bears reserve
.
55 brown bears recuperated from zoos, circus, and private owners found their peace and liberty on +/- 75 ha natural reserve.
Guides tours for children; listen to the bears' story and also photography safari for 35€/person. Adults are also permitted.
Duration: a little more than a half day
| Your staying in Sinaia
Day 1:

Arrival in Bucharest. French, English, Romanian, Italian speaking guide awaits you at the airport; departure to Sinaia – your accommodation place (125 km)



Day 2 to X:

Tailor made possibilities. Safari-photo-nature team is entirely at your disposal.

Many options for trips.



Last day:

Sinaia – Bucharest airport



Minimum stay 3 days and 2 nights.





| Prices
(Internal code CARPFAMI)

> Non photographer (companion): 85 € / day

> Child under 12 years old: 40€ / day





Condition




Compulsatory package of least 3 days / 2nights.

For more information do not hesitate to contact us.

Please check our general conditions.




PRICES INCLUDE



Airport - hotel - airport transfer with 4 speaking languages guide.

3 meals/day – à la carte (beverages not included), individual room; beverages not included.

Free access to the swimming pool, sauna, fitness, pool table (snooker).

WIFI

One saved brown bear.



Prices DO NOT include

International flight, according to departure city.

We recommend Blue Air flight company.

Estimative ticket price for Paris/Brussels (an European destination) to Bucharest - +/- 120€ if you book your ticket with about 1,5 month before the departure time.

Complementary excursions.



Supplementary option: rent a car

> Price per 5 days: +/- 180 €
> Administrative Fees: 40€